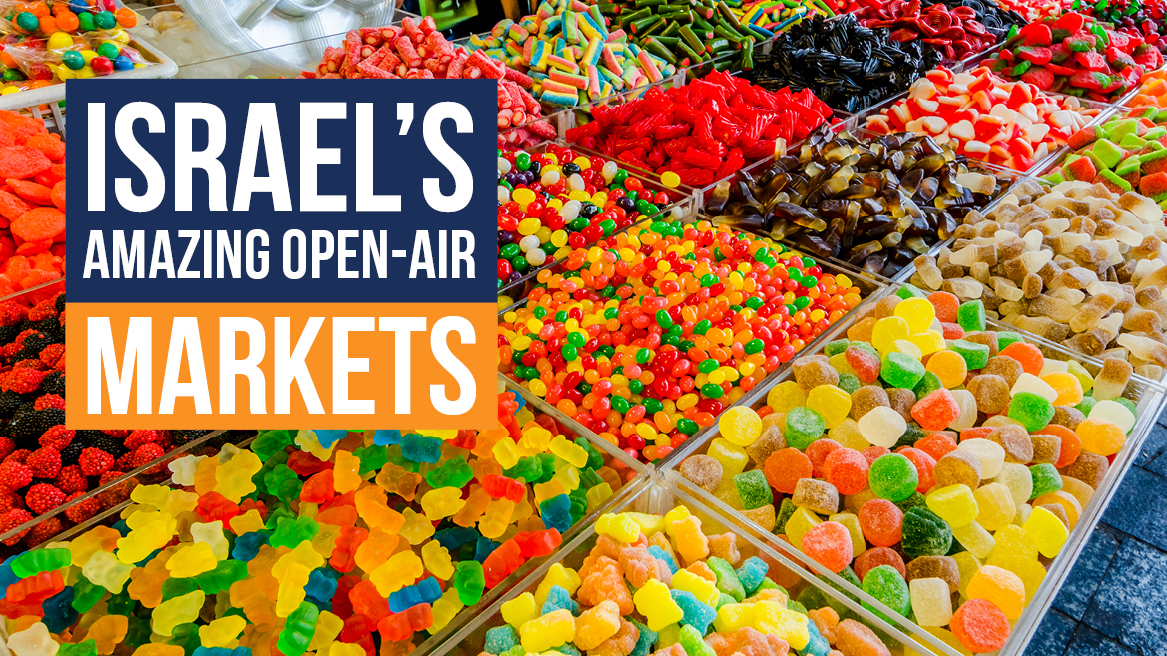 Israel's colorful and fragrant open-air markets, also known as shuks, are true treasure-troves, guaranteed to satisfy almost any need and quench anybody's thirst for a first-hand experience of the unique Israeli culture. Depending on the market, you can buy pretty much anything you need there, whether you are staying for a short time, or you're planning to live in the country for a while. You'll find there the freshest food, fruits, vegetables, spices, sweets, cake, and a lot more. You can also buy house appliances and a variety of souvenirs to take home to your loved ones, or visit one of the cafes and bars in the shuk, as well as the eateries that offer a variety local dishes and sweets. Let's check out three of many such wonderful places across the country.
What an amazing start of our shuk journey! Now that we are in Tel Aviv, we'll visit some popular streets, primarily Carmel Street that turns into King George Street after Magen David Square, Nahalat Binyamin Street and Allenby Street, where we'll find the famous Carmel Market, which is popular with both locals and tourists to shop, dine, walk around, hang out with friends and family, and experience Israeli culture like nowhere else. As a matter of fact, this shuk was established in the 1920s, so you can imagine how many visitors it has welcomed over time, soaking in the new elements to satisfy the needs of contemporary visitors, while maintaining the traditional aspect of its identity. We can go there every day, except Saturday (Shabbat), to buy some fresh and tasty produce, kitchen tools that we need, some clothes perhaps, even handmade jewelry for personal decoration or accessories to decorate our homes, as well as wonderfully fragrant flowers of many vibrant colors. We can have a lovely meal here, try the tasty local hummus, the Druze pita, Arabic sweets, and much more, followed by more shopping, this time of unique crafts and art of many kinds, created and sold by independent artist. Among its many contemporary features, you'll find here fast-foods, a Beer Bazaar, stalls with Asian specialty products, and much more. After the Carmel Market, we can also visit the neighboring Yemenite Quarter to try authentic Yemenite food.
After Tel Aviv, we must go to one of the world's most popular cities – Jerusalem. And while here, for a taste of authentic culture, we'll visit this site that, much like the city itself, stands as a mixture of rich history and unique modernity. Machane Yehuda invites its visitors to walk through its passageways, buy a variety of the colorful fresh produce, and along the way enjoy the mouth-watering scents and the inviting atmosphere itself. Wherever you look, you'll find bakeries, all sorts of baked goodies ready to be eaten (like falafel, baklava, halva, kebab, etc.), tasty dried fruits, and a number of different, trendy restaurants and cafes for you to sit down, rest a bit while you have a tasty meal or a relaxing cup of coffee, before continuing your exploration of the market. Or you can also have a traditional meal in a smaller, home-style restaurant, after you've checked out all the vibrant alleyways, bought some clothes, tasted and got some local cheese and wine and liquor, or some textiles and souvenirs – and much, much more, as there are more than 200 vendors and their products for all of us to check out here. Both in and around the market, you'll find the trendiest of places, be it a quieter café, a mom-and-pop's restaurant, a super-popular crowded bar, or vibrant nightlife come Thursday night – whatever you're looking for, it's very likely you'll find it here.
And for the end of our shuk journey, we'll visit a smaller market in the beautiful Haifa, which is likely to grow to the size and popularity of its sister-markets in Jerusalem and Tel Aviv. Not only will you experience here the traditional Israeli and Arabic cultures like no place else, but you'll see a fantastic combination of a variety of other world cultures, thanks to the city's mixed population. As in the two previously mentioned markets, you'll get to choose some of the tastiest fruits and veggies in Israel, spices, dried fruits, dairy products, wines, fish, a myriad of sweets and baked goods, even Russian candies, and much, much more, all for excellent prices. Once you're done with soaking up all the exquisite fragrances and energy, you can continue enjoying the one-of-a-kind culture of the area by having a delicious, gourmet meal in one of the market's affordable restaurants, as this shuk is actually home to a small but growing local culinary scene. Whether you're craving for traditional or international cuisine, Shuk Talpiot's got you covered.
When we travel, we want to experience the genuine tradition, taste genuine traditional foods and drinks, buy genuine souvenirs and perhaps even talk to the welcoming locals. And, as seen, one of the best places to do that in Israel is the shuk.