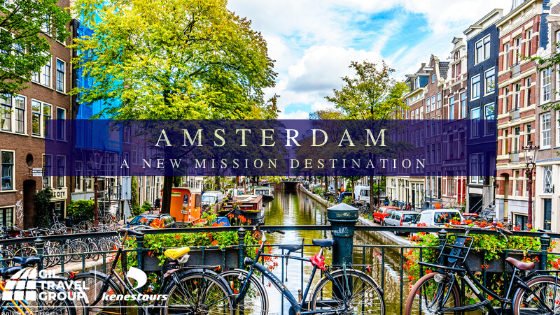 Delight your members with a Women's mission to Amsterdam
The classic destinations for a Mission became classics with good reason – they represent the concentration of thriving Jewish communities, small and large, who live and prosper from the generous philanthropy of your Federation while also having a rich Jewish history. While it is essential to continue to send missions to these countries and support these communities, we know it's also critical to maintain a wide and engaged donor base. We believe part of achieving that is offering new and fresh Mission destinations that can be done as a pre to an Israel Mission, combined with another destination or stand-alone. It will provide a new reason to participate for those that have "been there and done that" and it will forge new experiences that will elevate the connection your participants have with your organization and with each other.
One such destination is Amsterdam. Amsterdam may be best-known in the world Jewish community as the home of Anne Frank. For close to 75 years, people from all over the world have flocked to the Anne Frank House to glimpse her unfathomable reality, to see the place described in the book, to explore out of genuine curiosity or perhaps to challenge their own uncertainty as they ask themselves - even in 2020 - what would I have done?
Anne Frank was one extraordinary woman. But, let's imagine a women's mission, for example, and follow the path of other inspiring Women in Dutch Jewish history. Sieny Kattenberg Cohen was born in Amsterdam and as a young adult worked at the 'La Crèche Children's House' where she was forced by the Nazis to prepare the Jewish children to be transported to the death camps. Hear Sieny's story in the Dutch theater – looking out at the place 'La Creche' once stood – and understand how her ingenuity and courage saved over 600 children.
Anne and Sieny are just two personalities that of the many we will get to know. We will hear stories of other women, both Jewish and not, who all made great personal sacrifices during the Holocaust to save Jewish lives – often using their wiles.
Finally, meet Griet, the 16 year old girl, the narrator of her story as the maid in the home of the Dutch painter Vermeer and his wife Catherina, in the book 'The Girl with the Pearl Earring'. Walk the cobblestone streets and along the canal, recreating the scenes Griet described in detail, followed by a private tour of the Mauritshuis museum to see the original Vermeer painting for ourselves.
But wait, this trip is more than just about the special women we will meet. It starts with a private dinner cruise on the canal with young adults – all of whom are beneficiaries of your Federation-supported partners. Enjoy the beautiful nightscape of Amsterdam before exploring its nooks and crannies by day.
Visit the world famous Museumplein - museum quarter in Amsterdam with both the Van Gogh museum and the Rijksmuseum - housing some of the world's most treasured pieces of art; teaching us the ways of the past that have led us to our present. Tour the Royal Palace near the Dam Square and stop off for wine and cheese tasting – guarantee that 'Gouda and Edam' never tasted so good!
In Rotterdam, after exploring some of the unique architectural styles in the City, i.e. 'cube houses', we will split into teams and journey on our own through a contemporary street and urban art experience ending at the famous 'markthal' built in 2014 by Queen Maxima. Don't forget to look up at the gigantic 3D murals of many of the items being sold at the market itself. After a stroll through the market, we will participate in a special Dutch culinary event. All we can say for now is: put on your aprons, roll up your sleeves and get ready for a unique 'Kooking Escapade!' (Stroopwafels not included)
After visiting the beautiful Keukenhof Gardens, where there are over 7,000,000 tulips and thousands and thousands of other flowers, plants and herbs, we will travel to Den Haag – the seat of the government of The Netherlands where we will meet with representatives of the American and Israeli Embassies for important briefings on our relationship with The Netherlands as leaders in the American Jewish community.
Amsterdam is a beautiful city, rich with Jewish history and easily accessible to be done as a short stand-alone Mission or paired with Israel or another European city. We, as a society, as communities, as service providers, and as fellow human beings are facing an unprecedented difficult time rife with uncertainty. We choose to focus our time and thoughts on developing and planning for our future, on dreaming about travel, on envisioning unity. We hope you will join us in this positive approach and start thinking about planning for a wonderful mission to Amsterdam in the fall.
Topics: Jewish Heritage, World Travel