We all know that Israel is a great destination for religious pilgrims or history fans, but it's also aperfect country for family holidays! While adults can enjoy the landscapes and classic architecture, there's also plenty of stuff to do that will keep the kids entertained. From exploring ruins to climbing and playing and not forgetting a good beach day for the whole family for a nice break! To make the most of your family time, here are 12 things to do in Israel with kids. Don't forget your camera!
1. Eilat
Eilat is Israel's southern-most town located on the coast of the Red Sea. Eilat is safe to walk around and enjoys the benefit of good weather for most of the year. It has beautiful beaches making it the perfect place for water sports. You can do anything from surfing, scuba diving and swimming with dolphins, to a ride on a glass bottom boat.
Eilat may be a little out of the way from the rest of the country, but it can be easily accessed by taking a short one hour domestic flight from Tel Aviv, or enjoy the drive (approx. 4 hours) through the desert. You could spend your entire vacation in Eilat, but there is plenty more to see!
2. Ein Gedi Nature Reserve
The Ein Gedi Nature Reserve is just a one hour drive from Jerusalem, but as it's situated in the middle of the Negev desert. you might want to go there with an organized tour to israel. Once inside this oasis of natural springs and waterfalls, you'll find it hard to believe you're surrounded by desert!
Kids love playing under the waterfalls, bathing and splashing in the cool waters, and we're pretty sure you'll also enjoy the refreshing break. The whole family can also have some fun discovering the local plant life and trying to spot the Ibex that live there too!
3. Weizman Institute
Located in the town of Rehovot, The Weizman Institute is just a few minutes drive from Tel Aviv. If you want something indoor, either because it's raining outside, or more likely it's too hot to be outside the Weizmann Institute has plenty to explore. This is the home of science and innovation in Israel, so as you might expect everything is presented in a fun and interactive way. Your kids will have fun all day and learn things without even noticing!
4. Dead Sea
As the lowest point on earth, the waters in the Dead Sea are highly salinated leading to being able to float in its waters! You can't sink or swim in the Dead Sea, but you can sit up in the water! Due to this salination no sea life is able to survive in its waters, hence its name!
The waters are packed full of mineral richness which creates a mud on the sea bed. This mud contains great proprieties for the skin. After bathing in these unique waters, kids can enjoy scooping up the mud on the sea shore and covering their face and body in it! Getting them off the beach won't be easy!
5. Caesarea
Historically, Caesarea was a focal point for trade. Over time, it suffered from a decline in importance, and a number of earthquakes. The ruins have since been preserved making a great place for the whole family! Whilst the kids can have a great time climbing and playing across the remains, the adults can stroll around the ruins and take in the view and all its history!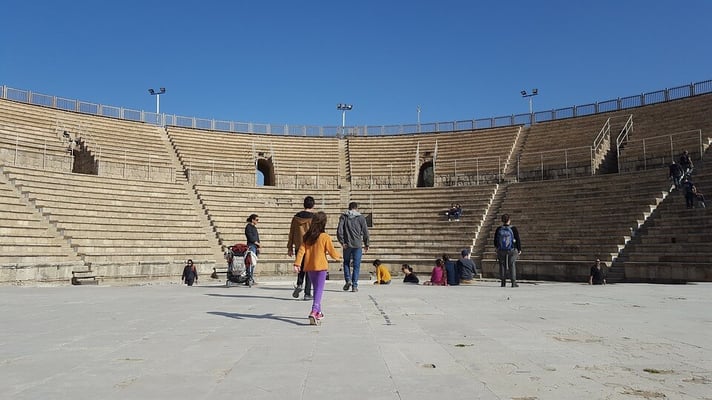 6. Jerusalem's ramparts
Jerusalem is a fascinating place that makes history come alive. Take it all in by walking through the winding streets and learning about the ancient buildings and artifacts dotted all over the old city. There is more than enough to fill several days of exploring.
A great way to make the city entertaining for kids is to show it to them from above. Take a 1.5 hour tour of ramparts that surround the walls of the Old City. This is a great way to explore, besides, what kid doesn't like climbing on ancient stuff?


7. Nimrod's Fortress
Located in the Northern Golan Heights, Nimrod's Fortress is a large ancient castle perched on a hill and offering panoramic views of the surrounding beautiful landscapes . It's well worth a visit just to take in the views! The castle and its labyrinth of staircases and tunnels will make for a great day of exploring for kids and pretending to be a prince or a princess!
8. Kibbutz Shalabim
The kibbutz movement in Israel is a fascinating part of Israeli society. Kibbutzim are built on the ideals of a socialist collective community, where everyone works together for the benefit of the kibbutz. The community is often centered around agriculture, farming or hospitality. Some kibbutzim have branched out into technology as well. A Kibbutz is a great, typically Israeli, place to visit with your children, as they will find many other kids to play with in a safe, natural environment.
Tours are available at most kibbutzim where can learn about the history of the kibbutz and most offer tours around the grounds and will show you the work they do, but the best way is to be invited by one of the local members. Kibbutz Shalabim, for example, offers tours where kids can come and help around the vineyard by pressing grapes with their feet!
9. Sea of Galilee
The Sea of Galilee, also known as the Kinneret is Israel's largest fresh water lake, and its main water source. The lake is surrounded by calm and pretty beaches. It's a great stop to go out for a picnic and have a quiet restful afternoon with your family. Around the lake, there's several beautiful short walks and a few ruins to explore as well!
If you feel more adventurous you can rent a bike and cycle part, or all of, the way around the 60 km perimeter of the lake!
10. Tel Aviv
Tel Aviv is Israel's best example of a metropolitan city. It's the beating heart of Israel and known as the city that never sleeps. There is always something to do or see, or a great new restaurant to try. Tel Aviv is packed with museums focusing on the modern history of Israel, for example the Yitzchak Rabin museums which intertwines his life story alongside historical events in Israel. The museum is interactive and great for kids and adults alike.
Conversely you can take a lazy day and enjoy the stunning beaches and take a splash in the sea. Tel Aviv was named one of the Top 10 urban beaches in the world, it's time to enjoy everything it has to offer?
So, who said history was boring? Take your kids out to explore the big wide world, starting with Israel, and come back with a suitcase full of fun family memories!

Topics: Israel Travel